For my partners birthday I wanted to bake him a birthday cake which was a little bit special. His favourite chocolates are Ferrero Rocher, in fact every Christmas his Gran buys him (and me but mine usually end up in his stomach!) a box and it doesn't take him long to demolish them all!
Therefore, I decided to make him a Ferrero Rocher chocolate cake and here is how I made it
Serves 12
Ingredients
:
sponge:
200g chocolate and hazelnut chocolate spread
170g unsalted butter
300g light brown soft sugar
3 large eggs, separated
320g self raising flour
50g ground hazelnuts
1/2 tsp salt
500ml semi skimmed milk
buttercream:
200g chocolate and hazelnut chocolate spread
200g cream cheese - personally I use Philadelphia
7 Ferro Rocher chocolates
decorations
:
9 Ferrero Rocher chocolates
edible gold shimmer spray or powder
Method
Grease and line 2 x 20cm/8inch cake tins
Pre heat oven to 190C /170C fan
In a large mixing bowl cream together the butter and sugar until pale and smooth
Beat the egg yolks in a separate bowl and then add to the creamed butter and sugar and beat well.
Finally add the chocolate spread and beat well.
Sift the flour into another bowl and add the nuts and salt
Add 1/3 of the dry ingredients to the creamed chocolate mixture and then add 1/3 of the milk and fold in Repeat this until all the milk and dry ingredients have been mixed in.
In a clean bowl whisk the egg whites until soft peaks form
Then carefully lightly fold into the cake batter using a metal spoon.
Divide the mixture evenly between the tins and bake in centre of oven until skewer comes out clean (about 30 minutes).
(You may find you have a bit of cake mixture left if so make into cupcakes and cook for 20-25 minutes)
. Let the cake cool down completely once removed from the oven.
To make the buttercream
Place the cream cheese and chocolate spread into a bowl and beat well to make a creamy mixture
Add the ferrero rocher chocolates and beat again to break up the chocolates and disperse within the buttercream
Once your cake is completely cooled, place one sponge onto your cake plate and add some of the buttercream to cover it and then place the other sponge on top
Using the rest of the buttercream, cover the outside of both cake sponges and then smooth over to give a neat finish
Place the 9 Ferrero Rocher chocolates on top of the cake - 1 in the middle with the other 8 around the circumference
Then using the edible gold shimmer spray/powder dust each chocolate to give them their golden glow (to try and mimic their gold wrappers) and if you wanted to you could dust all of the top of the cake - the choice is yours.
Then sit back and enjoy your cake
With this cake I am really spoiling you!
NOW ITS YOUR TURN
Please link up any cakes or baking creations you have made recently - anything goes as long as it is edible and yummy!!
You can add my badge if you wish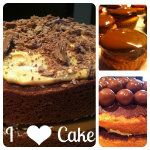 All linked up recipes can be pinned to my new
We Love Cake pinterest board
too so everyone can share our cake love!! I will make this a collaborative board open to anyone who wishes to link up and pin.
Please leave your

pinterest profile URL in the comments box below if you want permission to add to the board.
(
if you would prefer not to have your recipe pinned please let me know in the comments box below. thank you
)
Let the cake love fest begin :)